ANTHONY ROSE RECIPE COLLECTION
Client: Wilder & Rose
2016
Inspired by the Mccalls Great American Recipe card collection.
Wilder & Rose wanted something to hand out to tables with their checks,
so I came up with the Recipe Collection.
Ideally the guest would be intrigued by the photography, entertained by the sarcastic copy, and ultimately want to collect them all.
Bringing the Wilder & Rose brand into the homes of their guests and fortifying their presence as a purveyor of quality foods and entertainment, without giving away their secrets.
Printed to 2 x 6 postcards.
Handed out at each of their establishments.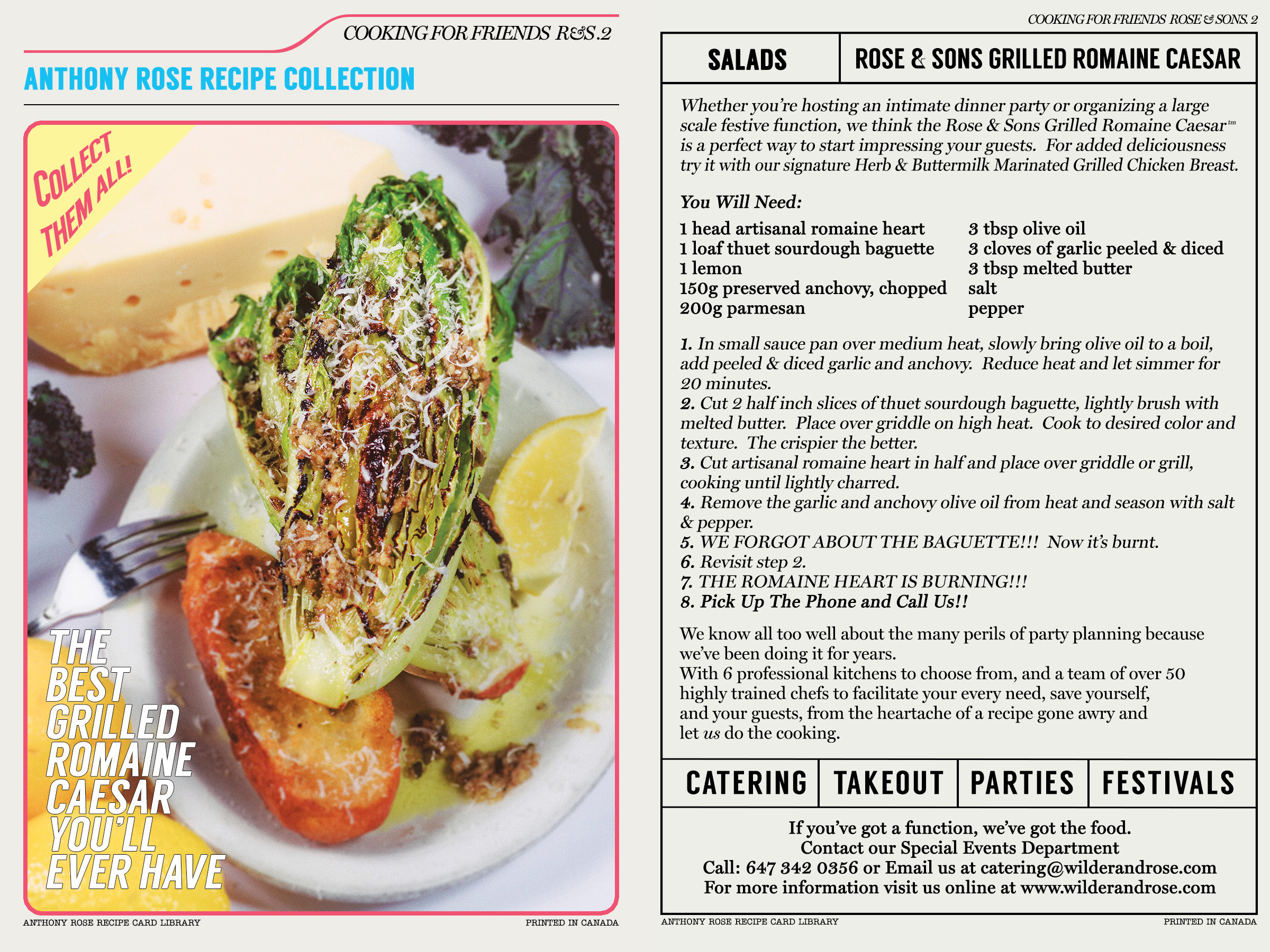 SQUIRT CREATIVE
A few different mock campaign directions for Squirt.
The first, a bright and playful sport theme. The tag lines read, 'Collect The Reward - Play Thirsty'.
Envisioned on the walls and windows of convenience stores.
The second takes Squirt a little more seriously. A handsome sun swept man quenches his thirst from the heat with an overflowing ice cold bottle of Squirt. The tag, 'Life is cool.'
The third, a simple product shot against background. The tag says it all, 'Don't just stand there, grab a straw.'
** These are Uncommissioned Works meant solely for Personal Use.
ADULT FUTURE
BAND ARTWORK
Client: Adult Future
2016
Selected original photo collages and an alternate direction made for fun.
Hear their music here: www.adultfuture.com
NYE PORTRAIT PROJECT
Every year is marked and remembered by the events that took place throughout it.
Where we found ourselves, who we were with or what we made with our time is what defines us.
Like most years, in 2015 we were all witness to moments that carried the weight to separate us, and to divide us by our ideas of what is right and wrong, there is nothing that makes me think 2016 will be any different.
In this portrait series, I wanted to show that our strength as a community is driven by our diversity, our positivity and the individual goals to better ourselves.
I asked people to share their resolutions or messages to themselves, so that as we begin a new year, in a time when our brave new world grows tired of battling the same old struggles, it is with positive messages from all types, that we can see even our smallest hopes show that we're all still in it together.
So many thanks to the beautiful people that participated in this series, it's all about you all.
Strength in numbers.
Be the ball.
Happy New Year folks.
From RTC.